Apollon PET 950 Monoblock Amplifier
From: 2,495.00€
PURIFI 1ET7040SA BASED MONOBLOCK AMPLIFIER
POWERFUL AND PRECISE
Apollon Audio PET 950 Monoblock Amplifier is built around the award-winning Purifi 1ET7040SA amplifier module. It is delivering plenty of power and fantastic detail for the most demanding studio or audiophile speakers with amazing clarity and brutal honest linear sound.
SPACIOUS, AIRY SOUND, ABUNDANT IN VIVID DETAIL WITH OUR CUSTOM INPUT BUFFER BOARD WITH WEISS OP2-BP
The Apollon Audio PET 950 Monoblocks are exceptionally fast, uncommonly clean, and exceedingly musical with articulated, deep, tight, and powerful bass. This is how the monoblocks can be described in one sentence and we have accomplished that by using a linear power supply to power the highly acclaimed Weiss OP2-BP Op Amp that is incorporated on our custom input buffer board.
---
---
Frequency Response:
0 – 50k Hz +0/-3dB
Low Distortion:
THD+N – 0.00035 % @ 200W, 4Ω, 1kHz
Signal-to-noise ratio
129dB
Gain
28 dB Gain
---
Apollon Audio
binding posts
To connect your speakers we use custom built Apollon Pure OFC Copper Binding Posts that are internally connected to the amplifier with Pure OCC 12AWG Copper Output Wire and soldered with silver solder.
– Balanced XLR input connector
– Unbalanced RCA input connector
– selectable input sensitivity gain switch
– Pure OFC copper binding posts
– Furutech mains inlet
– 12V trigger input with passthrough
– Dimmable LED front light
True Mono Design
Frequency Response: 0 – 50k Hz +0/-3dB
Low Distortion: THD+N – 0.00035 % @ 200W, 4Ω, 1kHz
High Input Impedance 100K
Signal-to-noise ratio: 129dB
28 dB Gain
Ultra High Damping Factor
High Current Output Max 40A Capable of driving 2ohm (for the Most Demanding of Speakers)
Power rating: 950W @ 2ohm | 500W @ 4ohm | 250W @ 8ohm
Case Dimensions: 350mm depth x 156mm height (with feet) x 280 mm width
Weight: 11 kg
– Hypex SMPS1200A400 (1 pcs.)
– Purifi 1ET7040SA amplifier (1 pcs.)
– Apollon Audio PET Input Buffer Board (1 pcs.)
– Weiss OP2-BP Op Amp (2 pcs.)
– Linear Power supply with LT3045/LT3094 (1 pcs.)
– Apollon Control Board for standby control
– Neutrik silver plated XLR line input socket (1 pcs.)
– Apollon Pure OFC copper binding posts (2 pcs.)
– Neotech UP-OCC 12AWG Solid Copper and 18AWG Pure Silver Speaker output wire
– 12V Trigger for wakeup from standby
– Furutech FI-06G High quality mains input socket
– Aluminium enclosure with anti-vibration aluminium feet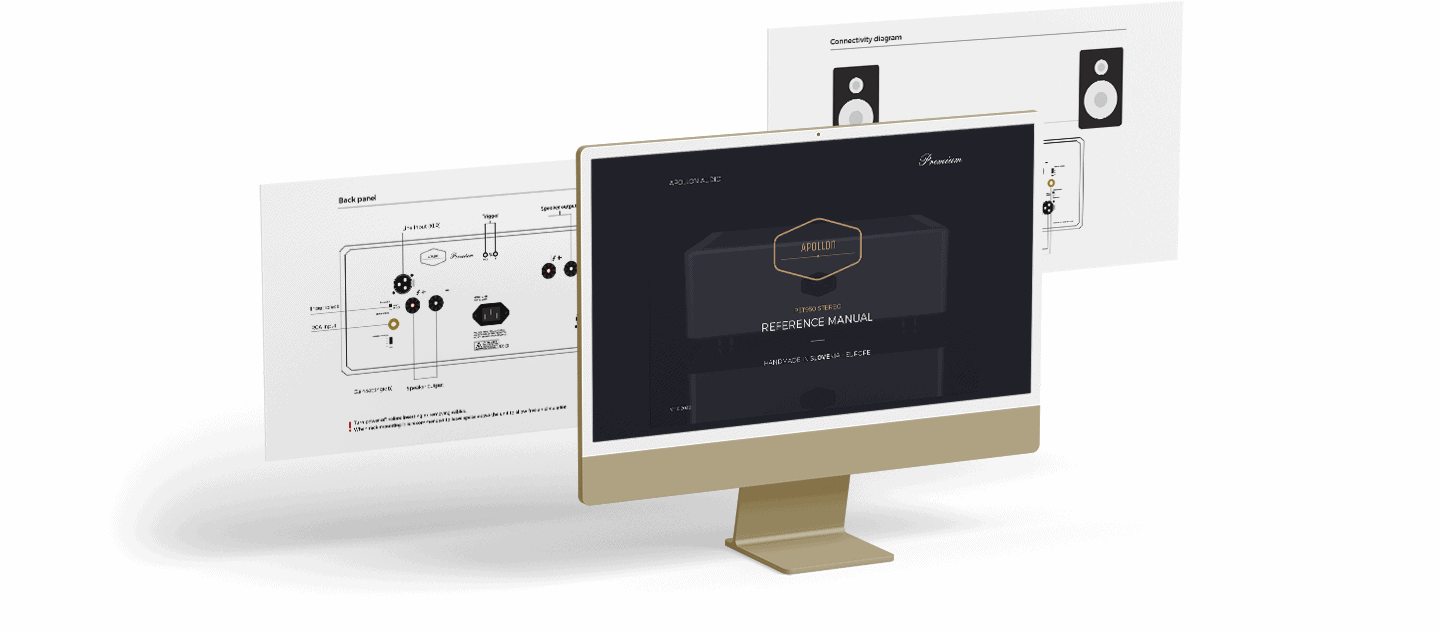 DOWNLOAD REFERENCE MANUAL:
EXTENDED 2 YEARS FULL WARRANTY
The prices displayed exclude the EU VAT and will be added at checkout if you are located in the EU. All amplifiers are built to order. Current lead time is 21 working days.
We ship worldwide – simply click "Add to Cart" or "Checkout with Paypal" to see the shipping costs.