Hypex NCx500 Apollon Mini Stereo Amplifier
From: 1,490.00€
HYPEX NCx500 BASED STEREO AMPLIFIER
ELEGANCE WITH A SIMPLY EXCEPTIONAL SOUND
If you are looking for an amplifier with pure detailed sound in a small, compact and light weight form factor that looks like a piece of prestige furniture then the Apollon Hypex NCx500 Mini amplifier is the right choice for your.
The Apollon Audio NCx500 MINI Stereo Amplifier is built around the new amazing Hypex NCx500 amplifier module in a very compact and lightweight design with amazing clarity and brutaly honest linear sound.
SPACIOUS, AIRY SOUND, ABUNDANT IN VIVID DETAIL WITH OUR CUSTOM INPUT BUFFER BOARD WITH OPA1612 OP AMPS

The Apollon Audio Hypex NCx500 MINI Stereo Amplifier is exceptionally fast, uncommonly clean, and musical with a lot of detail. It comes standard with 4 selectable gain settings, switchable input between Neutrik XLR balanced / Gold plated single-ended inputs, 12V trigger with passthrough and Furutech FI-06 gold-plated mains input.
HYPEX NCx500 AMPLIFIER ENSURES UNPARALLELED SOUND REPRODUCTION
The Hypex NCx500 amplifier module, integrated into the Apollon Audio mini amplifier, ensures exceptional sound quality. The NCx500 module, renowned for its advanced Class D technology, delivers precise and accurate audio performance. With its low distortion and high signal fidelity, this combination allows you to immerse yourself in your music, experiencing every nuance, detail, and dynamic range with stunning clarity and transparency. The Hypex NCx500 module's superior sound quality ensures that your favorite tracks are faithfully reproduced with utmost precision.

The Hypex NCx500 amplifier module and the SMPS power supply used in the Apollon Mini are designed with power efficiency in mind, making it an excellent choice for those who value energy conservation. Leveraging the inherent efficiency of Class D amplification, the NCX500 module takes it a step further, optimizing power consumption. The minimisation of power dissipation and heat generation, leads to reduced energy consumption and operational costs. The integration of the NCx500 amplifier module into the Apollon Audio mini amplifier ensures that you can enjoy your music while being environmentally conscious.

With a power rating of 650 watts (@4 Ohm), the Hypex NCx500 module, integrated into the Apollon Audio mini amplifier, provides ample power output to drive a wide range of speakers. Whether you prefer bookshelf speakers or floor-standing behemoths, this combination offers sufficient headroom to accommodate your audio setup's demands. The NCx500 module's ability to deliver substantial power ensures that your music is reproduced with impact and authority, allowing you to feel the full emotional intensity of your favorite songs.

LOW DISTORTION AND NOISE WITH THE HYPEX NCx500 AMPLIFIER
The Hypex NCx500 amplifier module is engineered to minimise distortion and noise, guaranteeing a pristine audio signal. With its advanced circuitry and meticulous attention to detail, the NCx500 module ensures that your music remains free from unwanted artifacts or background hiss. By maintaining a high signal-to-noise ratio, this combination delivers a clean, transparent, and immersive listening experience, allowing you to fully appreciate the subtleties and nuances within your music collection.

The Apollon Audio mini amplifier with Hypex NCx500 modules, offers a compact and versatile solution for music enthusiasts. Its small form factor makes it suitable for those with limited space or for portable audio setups. Despite its size, this combination doesn't compromise on power or performance, making it a convenient option for various listening environments. Its versatility ensures that you can enjoy high-quality sound reproduction in any setting, whether it's in your living room, office, or even on-the-go.

Hypex is a highly respected brand in the audio industry known for its reliability and performance. The Hypex NCx500 module has garnered positive reviews and is trusted by audio enthusiasts worldwide. Integrated into the Apollon Audio mini amplifier, you can have confidence in the quality and engineering of this setup. Its reputation for reliability ensures that you can enjoy your music without any interruptions or concerns about equipment failure.

The Apollon Audio mini amplifier, featuring the Hypex NCx500 module, offers customization and integration options to suit your preferences and audio setup. You can tailor the amplifier to your specific requirements, selecting from various output options, gain settings, and other features. This adaptability allows you to create a personalized audio system that seamlessly integrates with your existing equipment.

The Hypex NCx500 amplifier module built into the Apollon Audio mini amplifier provides exceptional sound quality, high power efficiency, robust power output, low distortion and noise, compact size, reliability, and customization options. This combination is ideal for music aficionados seeking uncompromising audio fidelity and an immersive listening experience. With its advanced technology and reputable industry standing, the Hypex NCx500 module integrated into the Apollon Audio mini amplifier is an excellent choice that offers the perfect balance of performance, convenience, and affordability.

POWER RATING
---
Frequency Response:
0 – 70k Hz +0/-3dB
Low Distortion:
THD+N – – 0.0002 % 20Hz-20kHz
Signal-to-noise ratio
137db
Gain
12,8/20,5/27,5/29 dB Gain
---
Apollon Audio
binding posts
To connect your speakers we use custom built Apollon Pure OFC Copper Binding Posts that are internally connected to the amplifier with Pure OCC 12AWG Copper Output Wire and soldered with silver solder.
---
Our custom input buffer board by default comes with the very advanced OPA1612 operational amplifiers. But if you would at any time wish to change the sound characteristics of the Apollon amplifier you can do so by simply exchanging the op amp (so called Op amp rolling). Our custom input buffer board comes with a DIP8 socket that enables you to attach a wide range of DIP8 compatible operational amplifiers on the market.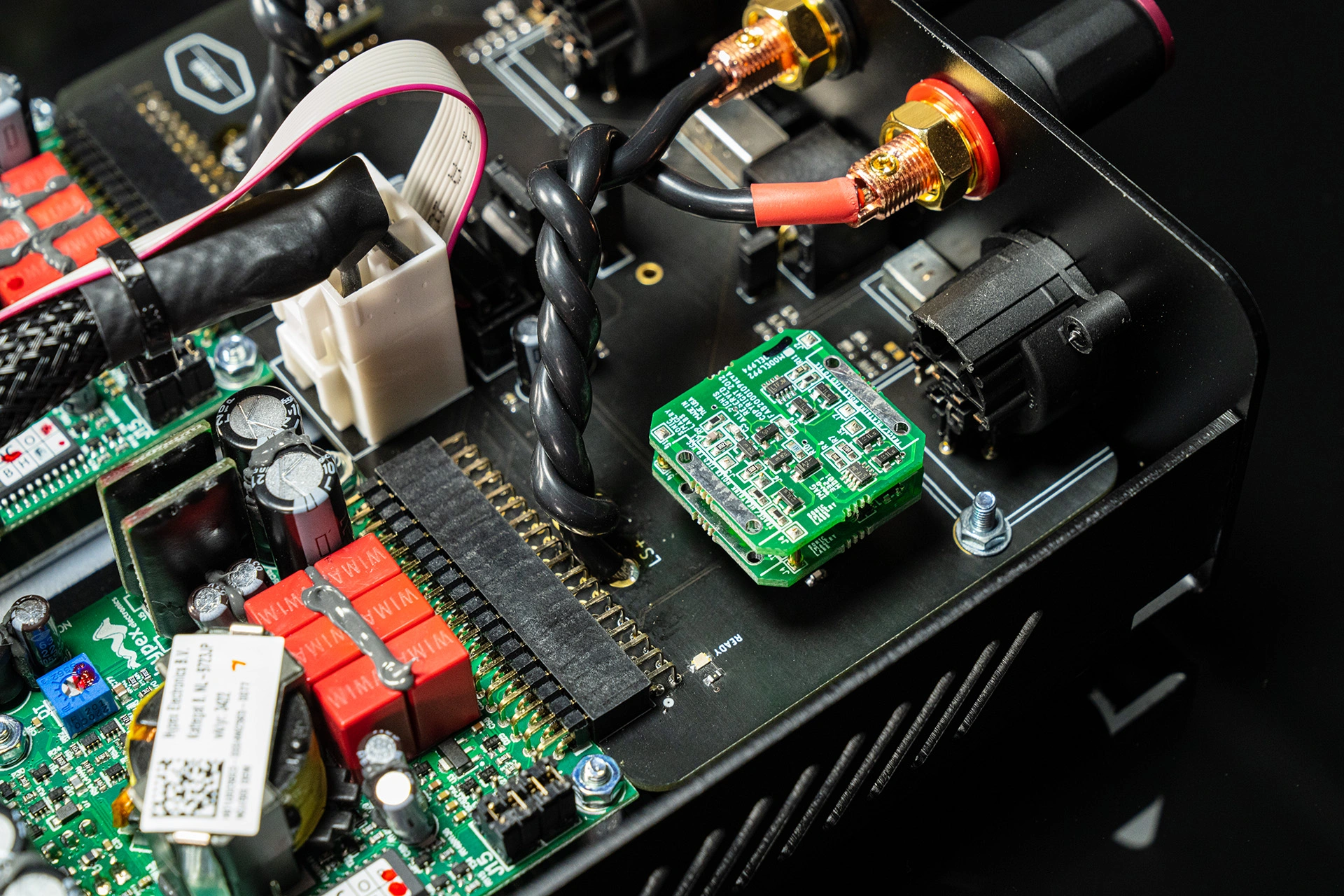 ---
The prices displayed exclude the EU VAT and will be added at checkout if you are located in the EU. All amplifiers are built to order. Estimated lead time is 14 working days for stereo amplifiers/monoblocks, 21 days for multichannel amplifiers and 30 working days for all Premium amplifiers. Please note that weekends and public holidays do not count as working days.
We ship worldwide – simply click "Add to Cart" or "Checkout with Paypal" choose your country and enter your City and valid ZIP code to calculate the shipping costs.
– Balanced XLR input connector
– Unbalanced RCA input connector
– selectable input sensitivity gain switch
– Pure OFC copper binding posts
– Furutech mains inlet
– 12V trigger input with passthrough
– Dimmable LED front light
Frequency Response: 0 – 70k Hz +0/-3dB
Low Distortion: THD+N – – 0.0002 % 20Hz-20kHz
High Input Impedance 50K
Signal to noise ratio: 137dB
Gain (dB) 12,8/20,5/27,5/29
Ultra High Damping Factor
High Current Output
Power rating: 675W @ 2ohm | 650W @ 4ohm | 380W @ 8ohm
Case Dimensions: 350mm depth x 90mm height (with feet) x 280 mm width
Weight: 6.8 kg
Hypex SMPS1200A700 (1 pcs.)
Hypex NCx500 amplifier (2 pcs.)
Apollon Audio Input Buffer Board (1 pcs.)
Apollon Control Board for standby control
Neutrik silver plated XLR line input socket (2 pcs.)
Gold plated RCA input with selector switch
Apollon OFC binding posts (4 pcs.)
Neotech UP-OCC 12AWG Solid Copper and
12V Trigger for wakeup from standby
High quality Furutech FI-06 mains input socket
Aluminium enclosure with anti-vibration aluminium feet