Apollon NC800 SLM Monoblock Amplifier
From: 825.00€
The Hypex NC500 based monoblock amplifier has the option to use a custom input buffer board with class A op amps that makes the Hypex NC500 work to its fullest potential and create a mind-blowing musical experience. With our NC800SL Amplifier you have the option to choose our custom Apollon input buffer board built around Sonic Imagery 994 or Sonic Imagery 990 PRO OP Amps or Sparkos Labs SS2590 PRO op amps and Sparkos Labs regulators. The Apollon input buffer board is using highest quality 1% metal film resistors and audiophile grade polystyrene capacitors, while the power is being conditioned with discrete voltage regulators made by Sparkos Labs.
The case is very robust. The amplifier has high quality Apollon Pure OFC binding posts, Neutrik high quality gold plated XLR sockets, Furutech mains socket and white illuminated front standby switch.
---
---
Frequency Response:
0 – 50k Hz +0/-3dB
Low Distortion:
THD+N – – 0.001 % 20Hz
Signal-to-noise ratio
135db
Gain
26.5 dB Gain
---
Apollon Audio
binding posts
To connect your speakers we use custom built Apollon Pure OFC Copper Binding Posts that are internally connected to the amplifier with Pure OCC 12AWG Copper Output Wire and soldered with silver solder.
---
Our custom input buffer board by default comes with the very advanced OPA 1656 operational amplifiers. But if you would at any time wish to change the sound characteristics of the Apollon amplifier you can do so by simply exchanging the op amp (so called Op amp rolling). Our custom input buffer board comes with a DIP8 socket that enables you to attach a wide range of DIP8 compatible operational amplifiers on the market.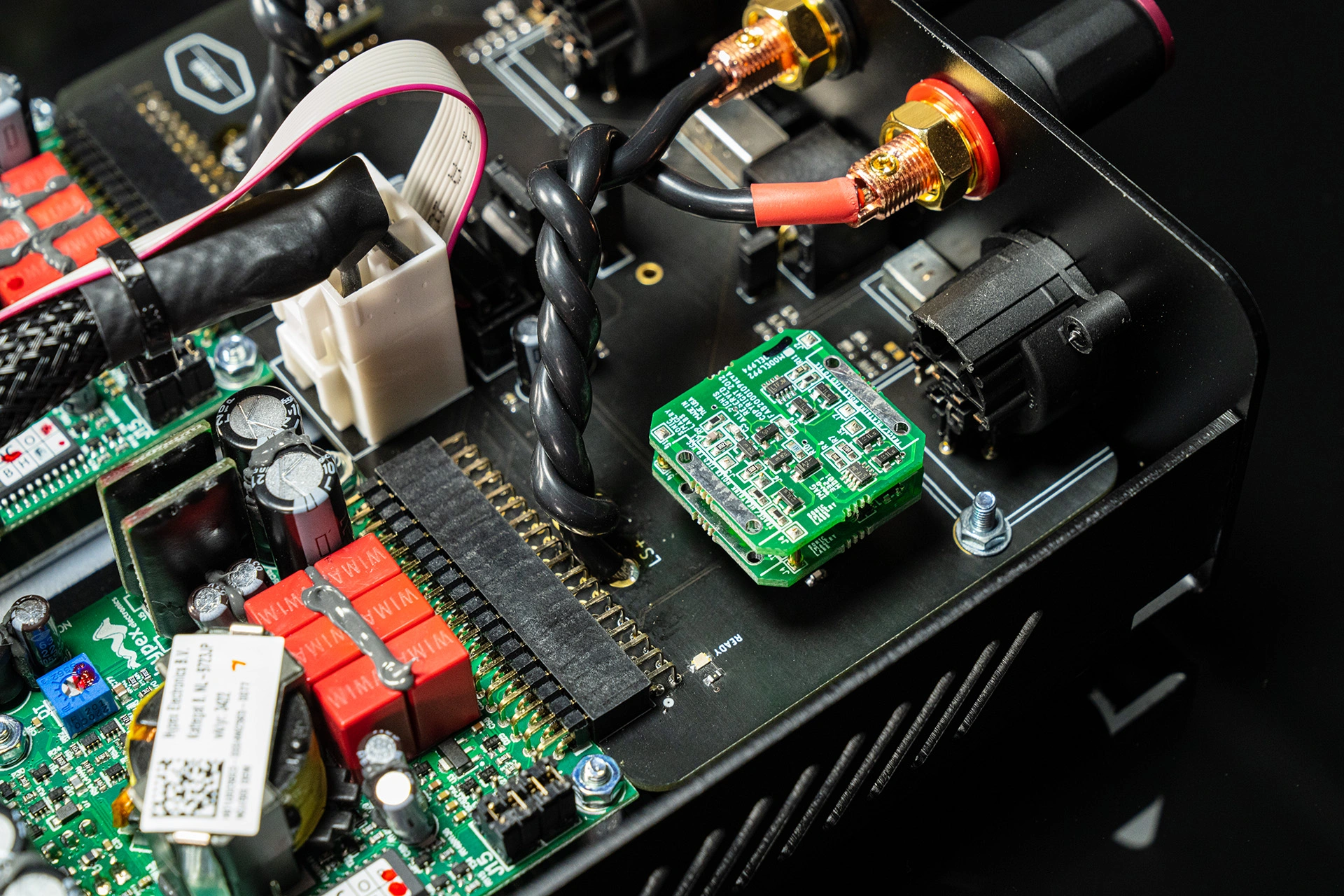 True Mono Design
Distortion: THD+N – – 0.001 % 20Hz
Frequency Response: 0 – 50k Hz +0/-3dB
Low Distortion: THD+N – – 0.001 % 20Hz
High Input Impedance 47K
Signal to noise ratio: 135dB
26.5 dB Gain
Ultra High Damping Factor
Power rating: 550W @ 2ohm | 700W @ 4ohm | 400W @ 8ohm
Case Dimensions: 230 x 82 x 280 mm ( 104mm height with feet)
Weight: 4,7 kg
Hypex SMPS1200A700 (1 pcs.)
Hypex Ncore NC500 amplifier (1 pcs.)
Apollon Audio Input Buffer Board (1 pcs.)
Apollon Control Board for standby control
Neutrik gold plated XLR line input socket (1 pcs.)
Gold plated RCA line input with switch (1 pcs.) – OPTIONAL
WBT 0703 CU binding posts (4 pcs.)
Neotech UP-OCC 12AWG Solid Copper Speaker output wire
12V Trigger Option for wakeup from standby – OPTIONAL
High quality fused mains input socket with power ON/OFF button
Aluminium enclosure with anti-vibration aluminium feet
The prices displayed exclude the EU VAT and will be added at checkout if you are located in the EU. All amplifiers are built to order. Current lead time is 21 working days. We ship worldwide – simply click "Add to Cart" or "Checkout with Paypal" to see the shipping costs.