Hypex NCx500 DM Dual Mono Stereo Amplifier
From: 1,790.00€
Hypex NCx500 Dual Mono Amplifier
Hypex NCx500 based amplifier. Unmatched Audio Perfection. Uncompromising Quality.
Embark on an unparalleled audio journey with the Apollon Audio Hypex NCx500 True Dual Mono Amplifier. Meticulously crafted with cutting-edge class D technology and the finest components, this amplifier sets the standard for unrivaled audio performance. The heart of this masterpiece lies in the newest Hypex NCx500 NCOREx amplifier module, providing abundant power and remarkable precision that caters to discerning audiophiles, professional studio applications, and home theater enthusiasts alike.
Hypex NCx500 NCOREx - Unmatched Audio Perfection
Indulge in the pure magic of dynamic sound as every note comes to life with exceptional clarity and a candid, linear sound signature. The Apollon Audio Hypex NCx500 Dual Mono Amplifier effortlessly elevates your listening experience, complementing even the most demanding speakers with its exceptional performance.
Designed for audio nirvana, this amplifier is a true testament to innovation, craftsmanship, and the pursuit of sonic perfection. Whether you're immersed in your favorite music, enhancing your movie nights, or engaged in professional studio work, the Apollon Audio Hypex NCx500 Dual Mono Amplifier takes your audio journey to a whole new dimension of excellence. Experience the pinnacle of audio artistry – redefine your perception of sound today.
Why choose the Apollon Audio Hypex NCx500 Dual Mono Amplifier Features:
The Apollon Audio NCx500 dual mono amplifier delivers exceptional performance with its ultra low distortion  (THD+N –  0.0002 %) as a result of the Hypex NCx500 amplifier module combined with our custom input buffer boards.
Balanced & Single-ended Input
with Gain Selection
The signal to the amplifier can be provided by using XLR balanced or RCA single-ended cables.  The custom input buffer board offers 4 different input gain settings levels.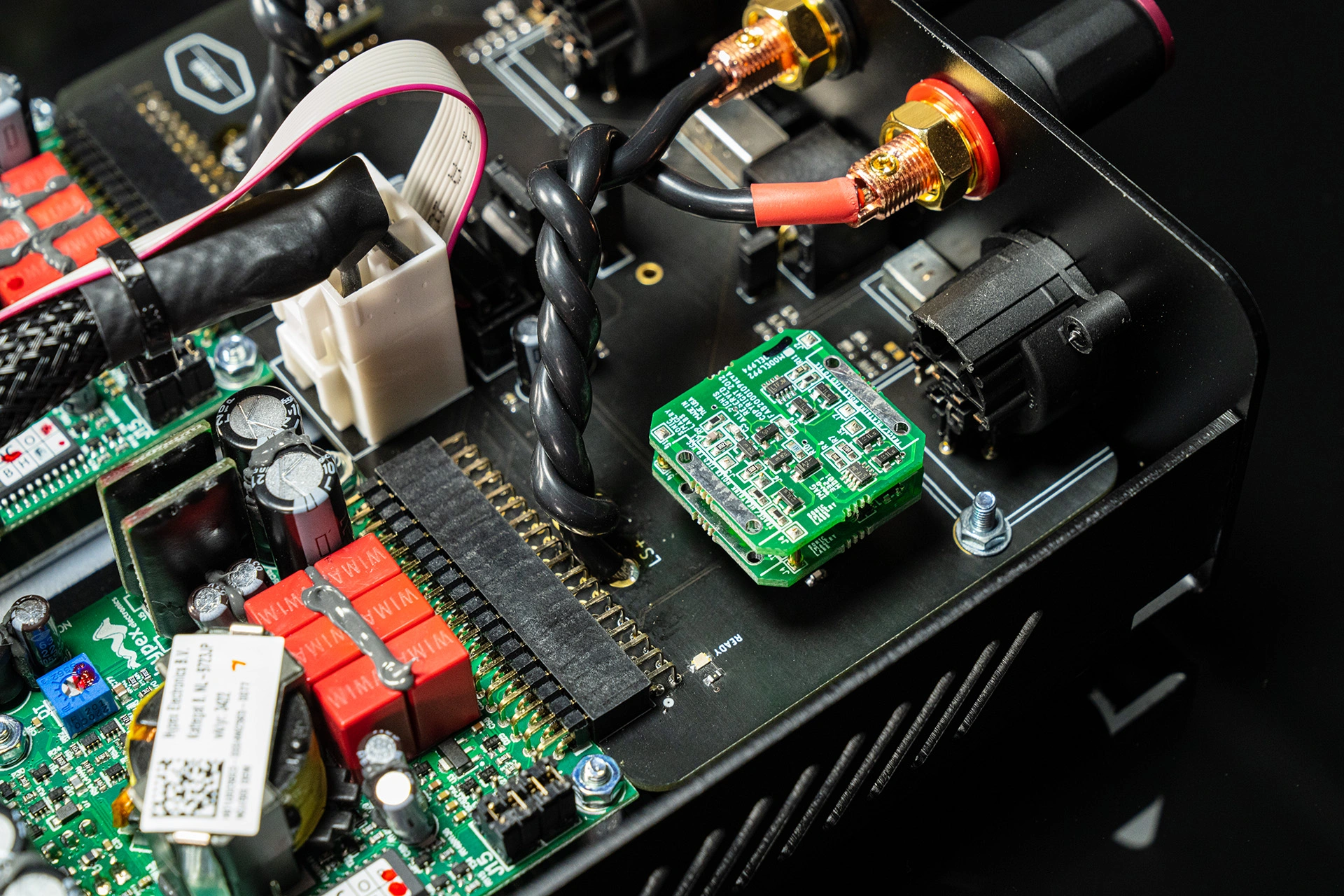 Our custom input buffer board by default comes with the very advanced OPA 1656 operational amplifiers. But if you would at any time wish to change the sound characteristics of the Apollon NCx500 dual mono amplifier you can do so with simply exchanging the op amp (so called Op amp rolling). Our custom input buffer board comes with a DIP8 socket that enables you to attach a wide range of DIP8 compatible operational amplifiers on the market.
Crystal-Clear Sound:
Discover breathtaking clarity and precision in your audio, revealing every detail of your favorite tracks and movies.
Dual Mono Design:
The Apollon Audio Hypex NCx500's dual mono configuration ensures independent power supplies for left and right channels, minimising crosstalk for a wider soundstage
High Power Output:
With 700 watts per channel, the Apollon Hypex NCx500 amplifier delivers a potent punch that effortlessly drives even the most demanding speakers.
Energy Efficient:
Enjoy powerful performance without sacrificing energy efficiency, reducing your carbon footprint and energy bills.
Studio-Grade Performance:
Experience the same audio fidelity used by professionals in recording studios and concert halls.
Unleash Audio Excellence with Apollon Audio Hypex NCOREx NCx500 Dual Mono Amplifier
Apollon Audio Hypex NCOREx NCx500 based Dual Mono Amplifiers is built on the Hypex NCx500 amplifier modules.
Delivering breathtaking detail for the most demanding studio, home cinema, and audiophile speakers, with an astonishingly transparent and brutally honest linear sound.
Experience Spacious, Airy Sound:
Our custom input buffer board ensures vivid detail and an expansive audio experience, as the Apollon Audio Hypex NCOREx NCx500 Dual Mono Amplifier impresses with exceptional speed, pristine cleanliness, and unmatched musicality.
Revel in articulated, deep, tight, and powerful bass that astounds with a high output current capability of 28A, providing unparalleled performance even at low impedances. Don't miss out on this audio powerhouse!
---
---
Frequency Response:
0 – 70k Hz +0/-3dB
Low Distortion:
THD+N – – 0.0002 % 20Hz-20kHz
Signal-to-noise ratio: 137db
Gain settings: 12,8/20,5/27,5/29 dB
High Input Impedance: 50K
Ultra High Damping Factor
High Current Output : 28A
Case Dimensions: : 303mm depth (incl. binding posts x 69mm height (with feet) x 435 mm width
Amplifier Weight: : 5kg
---
SPEAKER OUTPUT CONNECTION

By default we use custom built Apollon Pure OFC Copper Binding Posts that are internally connected to the amplifier with Pure OCC 12AWG Copper Output Wire and soldered with silver solder. They accept banana plugs, spades and bare wire. There is also an option of opting for industry standard Neutrik NL-2 Speakon connectors.
---
Why Choose The Apollon Audio Hypex NCx500 Dual Mono Amplifier
• Global Shipping: We deliver our high-end amplifiers to customers worldwide, ensuring everyone can experience top-notch audio.

• 100% Satisfaction Guarantee: If you're not completely satisfied with your purchase, we offer hassle-free returns and exchanges.

• Expert Customer Support: Our knowledgeable team is always here to assist you with any inquiries or product-related advice.


• Unmatched Craftsmanship:

Every Apollon Audio Hypex NCx500 is meticulously handcrafted with unwavering attention to detail. Our team of passionate audio enthusiasts ensures that each amplifier meets our strict quality standards, delivering unparalleled performance and reliability.
What is inside the Apollon Audio Hypex NCx500 Dual Mono Amplifier:
Hypex SMPS1200A700 (2 pcs.)

Hypex NCx500 NCOREx amplifier (2 pcs.)

Apollon Audio Input Buffer Board with OPA 1656 op amps

Apollon Control Board for standby control

Neutrik silver plated XLR line input socket

Gold plated RCA input with selector switch

Apollon OFC Binding Posts (4 pcs.)

Pure UP-OCC 12AWG Solid Copper Speaker output wire

12V Trigger with passthrough for wakeup from standby

Furutech FI-06 mains input socket

Aluminium enclosure with anti-vibration aluminium feet

Gain setting (12,8/20,5/27,5/29 dB)

Dimmable LED front light
The Hypex NCx500 is the best investment I've made for my home studio. It elevated my music production to a whole new level.

Mark W.

I'm blown away by the audio clarity and power of this amplifier. It's like experiencing my favorite music for the first time.

Emily R.

Apollon Audio's customer service is top-notch. They helped me choose the perfect amplifier for my home theater setup.

Michael C.

Absolutely blown away by the sound quality! I'm a professional musician, and these amplifiers exceeded my expectations.

John D.

The perfect addition to my home theater system. Crisp, clear sound in a sleek design.

Simon L.

Great customer service and prompt delivery. Highly recommended!

David S.

The amp sounds amazing. Everything you said about the amp is true. Super accurate, super precise and fast. I rediscovered my NS10s

Dominique Meyer

I've had the amp for about a week and a half now and I'm enjoying it quite a bit.  It's opening up nicely and the depth and detail are excellent.  I've had to adjust my subs (dual Rythmik F15s) down a bit because, I believe, my Tylers are now being driven more to their potential. Excited to hear if things open up even more. Very happy so far with my purchase.  Thanks again!

Rich Stratton

http://www.rtmastering.com
Elevate Your Audio Experience Today!
Unlock the True Potential of Your Audio Setup with Apollon Audio Hypex NCx500 Dual Mono Amplifier.
Experience Audio Perfection Today!
Select your desired color and simply click add to cart.
The prices displayed exclude the EU VAT and will be added at checkout if you are located in the EU. Estimated lead time is 14 working days for stereo amplifiers/monoblocks.

We ship worldwide – simply click "Add to Cart" or "Checkout with Paypal" choose your country and enter your City and valid ZIP/Postal code to calculate the shipping costs.
Only logged in customers who have purchased this product may leave a review.